Primary English teacher, homeroom teacher, grade coordinator,won the 13th "Xieli Hui Outstanding Teacher Award" in 2021.
Today's camera focus on our teacher Fu Shirong.  Ms. Fu has been teaching for 13 years.  She likes to think of herself as a firefly. She tries to brighten the children with her firefly light. Her colleagues say she is just like a bee, always working diligently and offering honey-sweet help with someone is in need.  Parents say that she is not only the "big-parent "for the students in her class, but also the "big parent" for the parents. Whenever parents struggle with their child's behavior and feel a bit hopeless, Ms Fu can make them see new hope with her warm and caring advise. In Ms. Fu's eyes children's growth makes her the happiest.  Her ideal as a teacher is to help all the students discover themselves, strive for their best and finally break out of their cocoons and turn into beautiful butterflies, flying freely into the blue sky.
Grade 2 Group Leader Gao Yuansheng teacher:
As two of the first teaching group of SUIS Qingpu Campus. I always think that our cooperation is more like a firm encounter. We firmly believe that we can support each other, and we are very confident in everything we cooperate with .
She taught me how to listen to parents, how to let every child be seen, how to create a loving classroom atmosphere… I truly feel that she does everything "with love in her heart and light in her eyes", which really makes me admire.
She is the model of my work. We hold Grade Assembly together, coordinate the training of Story Mom Team and grade group activities together… You will find that as long as she thinks it is beneficial to the growth of children, she will try her best and do everything, which also affects me, hoping to become a determined teacher like her. At this moment. What I really want to say is "Dear Amy, love you forever!"
Grade 1 Homeroom Teacher Ma Anqi:
I have only worked with Amy for a short time, but her dedication, positivity and optimistic spirit deeply affects me. At the end of every day, when we leave school one by one, we can always see Amy still working in her classroom. If we have any questions, we know Amy will help us no matter how busy she is.  She will always guide us with patience and care, just like a big sister.  When it come to the students, Amy is a gentle but firm teacher. Whenever I pass by her classroom, I can always hear the students call out her name with love and joy, How lucky and fortunate are both the teachers and the students at this school to know such an excellent teacher.
Zhou Yuwei, head teacher of Grade 1:
This year I am honored to work alongside with Ms. Amy in the same grade. She is enthusiastic, easy-going, skilled, patient and it seems she has limitless strength. She is the magic mediator of our harmonious atmosphere and the anchor of our grade group. At the beginning of this semester, we had all kinds of pressure to create a warm and efficient teaching environment, luckily with the care and guidance of Ms. Amy we always kept stable attitudes and high standards.  Ms. Amy made great efforts to be an outstanding role model to all the new teachers.  She is a good example of a righteous teacher not only with her words but also with her deeds.  Her passion and dedication to this profession are worthy of my learning.
Tang Yuan, head teacher of Grade 3:
During a school day Amy is either teaching in her classroom or she is busy with a variety of grade related work somewhere on campus.  At night, Amy is always the last teacher still in her classroom preparing for lessons or communicating with parents.  Working alongside Amy, I can feel her strong love for teaching and for her students.  Amy considers teaching as her lifelong career, and she keep on giving it her best.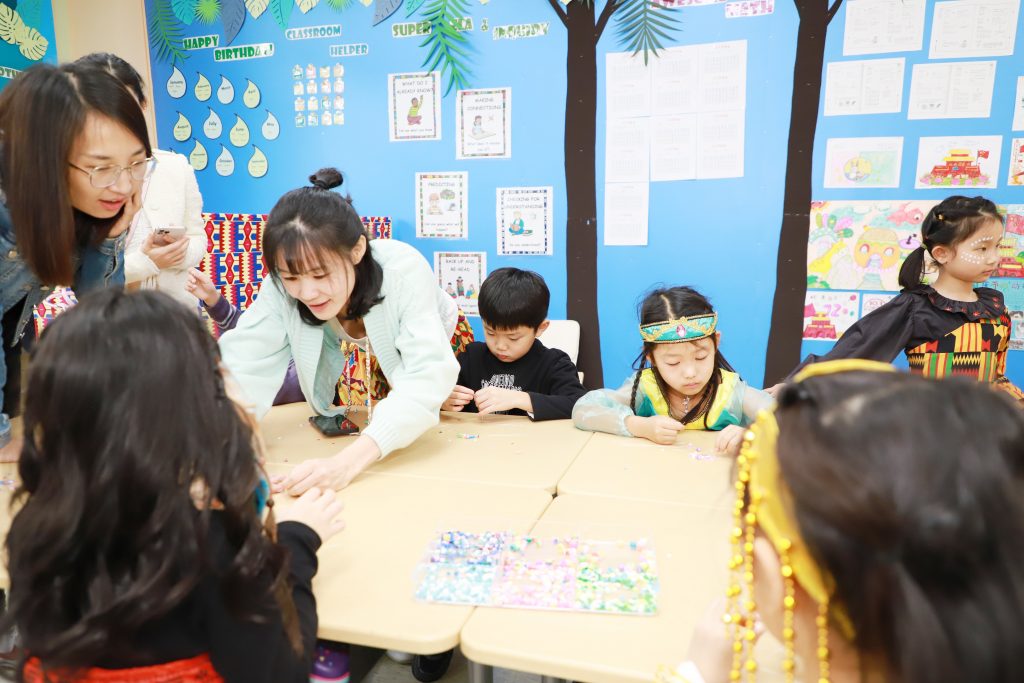 Teacher fu Rongrong of Grade 3:
I have worked with Amy in grade 1 and grade 2, it is easy to see that she is a dedicated teacher.  Amy is always guiding new homeroom teachers with care and love.  Every task and every notice she will explain in detail to make sure that no part go missing. It is reassuring to work with her in the same grade.  In her classroom she is a unique soft, warm, gentle but firm teache.
Chen Keting's mother in Class 1I:
I got to know Ms. Amy in September 2019.  At that time, I did not know her very well.  What impressed me most was her amiable smile.  I have yet to see another expression on her face as that smile. Later due to home-school activities I got to know her better and learned that she has inexhaustible energy.  Every day you could still see that infectious smile on her face.
This year, my second son entered first grade and happened to be in Ms. Amy's class. I always see Ms. Amy squatting down next to when she needs to address their behavior and after the school day has finish, she will phone their parents to discuss the recent situation. I have noticed that she will always find the root of a problem. She is a good teacher who can read what is inside a child and inspire her students. No matter how busy she is, she will always find time to take photos of her students, to help them treasure countless wonderful moments. That is her, our super and wonderful Ms. Amy.
Class 3A Touni Processed Mom:
I remember the day two year ago when I first met Ms. Amy, it was noon in the middle of summer. As a parent of the first students in the new SUIS QingPu campus, I was somewhat anxious and demanding.  After a short interview with Ms. Amy, I was overwhelmed her gentleness, patience, and thoughtfulness. During the following two years the students in her class had a good teacher who was most willing to listen to them.  In the process of growing up, some students in the class were naughty and some introverts, but Ms. Amy gave her attention to all the students and help them to enlighten their minds and improve their English. She can create a warm atmosphere in her class, and she made time to talk to the student' s parents every night.
SUIS QingPu started the Story Mum Team.  Ms. Amy said that she hoped the students could feel the power of education beyond their schoolwork and activities. From the first Story Mum team building to the training, to the story telling in the classroom, you could see Ms. Amy's effort and her vision. As the team leader of the Story Mum Team, I must share that in the beginning I just wanted to share her work, but during our communications and collaborations, I was so moved by Ms. Amy's long-term vision and warm heart that I threw myself into this cause without hesitation.  Now we are in grade 3, we have a new homeroom teacher as Ms. Amy must guide the new grade 1 teachers. The two years with Ms. Amy were very short, but my daughter received a good foundation in Ms. Amy's class and Ms. Amy helped the transition from kindergarten to primary school as smooth as possible. She is a good teacher to her students, but she is also a good mentor to the parents. In the new year I wish Ms. Amy a happy year, good health and to have students from all around the world.