You must be full of love in your heart before youchoose to be a teacher.
It must be full of happiness to insist on being ateacher.
It's the 37th Teachers' Day on this September10th; it's the 9th Teachers' Day we celebrate together in Wuxi United International School.
Wish you happy teachers' day, warm in heart andfull of joy.

With the morning sunshine, the student orchestra performed at the south gate to greet the teachers for this special day.

Teachers were touched by the tender moment.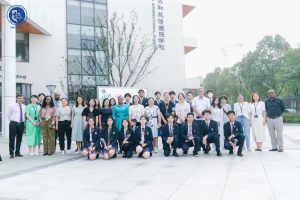 The Sleepless Band of Grade 9's performance attracted teachers and students to stop and enjoy in the admin hall.

Here we solemnly promise to the school, society and parents to follow Teachers' Letter of Undertaking, and we have the responsibility of educating students as teachers.

We already have the best gift from you.

We progress the growth together in teaching and learning.

The school principals' office sends festive greetings to all of the teachers and staff with high respects for your special day via awarm letter.