From WUIS to the world and from now to the future. Last week, 24 universities from Europe, the United States and Canada visited Wuxi United International School from October 14 to 18, providing students and parents with a feast of information.

On October 14, Queen's University, Top 4 in Canada visited us. When the admission officer shared the latest admission information, she reminded the students to study hard and maintain competitive academic performance.

At 9:15am on October 15, the university fair was held as scheduled in the Grand Theater. Students from the secondary school were very curious about universities from Europe, and they went back and forth among the booths to ask questions. Busy and enthusiastic admissions officers were also eager to answer students' questions.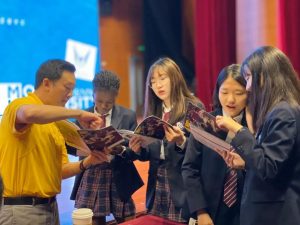 "It was not required to provide DaF Test for English taught programme," a 10th grader student who would like to apply for Germany laughed with relief after consulting the admissions officer of Karlsruhe Institute of Technology's Karl Benz School of Engineering.

At noon on October 16th, U.S.A. University fair was in full swing in the lobby.

Sam Sun 
"The admissions officer at South Carolina was very enthusiastic. She introduced about the school's location, the student-faculty ratio and the number of Asian students. Since I am very interested in NCAA, I specifically asked about the information about the University of South Carolina basketball team and learned that they were one of the top ten NCAA teams in the first three years. This makes me more interested in South Carolina. So far, I have submitted my application to this university.  "

In addition, the universities also creatively organized information sharing sessions on four different topics for secondary school students in our school, which benefited both students and parents.

Ann Kang
Each university had their own brochure and name card to have additional contacts if students were interested. In addition, one of the admission officers explained every bit of details in applications form, the campus and the facilities they were having. This experience is useful and special.
For the 11th graders and 12th graders, it helped them to have better information of universities around the world and gave them clear ideas to fill various types of application forms. Overall, it was an honor for our students to meet each admission officer from each outstanding university. This made us to have a larger perspective towards our future college and university applications.