This October, we invite you to share a book tour in autumn. Let's review the wonderful moments of book week.

The book fair lasted for three days which presented a vast range of books for reading enthusiasts. In the long term,reading should be a lifelong career.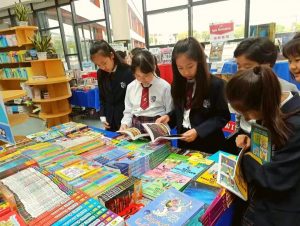 The world described in the book is full of imagination, curiosity and opportunity. Children who love reading have great ideals, dreams and creativity.

 "Comics without dialogue" aims to stimulate children's enthusiasm for reading and creation. Without the text, how to interpret the story? Let's take a look at the students' creative works.

As the Chinese saying goes, only through reading thousands of books can one write fluently. Reading is the  most effective way to write fluently. Reading marathon is our annual activity. This year's activity is linked to house points. Excellent book reviews will win extra points for your house.

The process of reading is not only a process of knowledge intake, but also a process of spiritual nourishment.

Making friends with books. Reading accompany our growth, let the atmosphere of reading spread across our campus.