At SUIS Qingpu, we have a team of lovely, trustworthy, and respectable teachers who are caring, outstanding in their profession, willing to share and motivated to learn. In order to build more sharing and learning platforms for teachers and to promote our teacher development-minded community, we successfully held our first Teacher-led PD Workshop event, organized by the school's Teachers Development Academy (TDA).
This was a unique teacher development event that focused on the professional development of teachers across departments, grades, and disciplines. We made useful explorations into educational research, teacher empowerment and quality improvement, and further created a 'big teaching and research' atmosphere for teachers from all departments and subjects to learn and improve together, in the end achieving good research results.
Workshops commenced at 3:40 pm on November 18 as scheduled. After workshop leaders were identified or recommended, a total of fourteen workshops in different fields were prepared for and then presented during the session. Workshop content covered a variety of fields such as moral education, practicing "Double New" policies, featured practices in curriculum, and art education. The workshop facilitators, each with their own expertise, prepared wonderful training content from their own professional interests. In addition to providing workshop participants with a learning experience, the participants also enjoyed themselves and benefitted from sharing with their peers.
Each participant chose their workshop topic based on their own development and interests. Through the face-to-face exchange experience and demonstrations provided in the workshops, teachers actively discussed various educational and teaching issues, and shared knowledge, experience, resources and beliefs, which not only promoted the improvement of educational and teaching standards, but also promoted the communication and interaction of teachers across the school, enhancing the overall cohesion of the team. The exchange and collision of ideas contributed to the further optimization of our teacher learning and development community.
The event also served to stimulate the internal driving force of teachers' self-growth, to make them feel more enthusiastic to work together in our SUIS Qingpu family and to consolidate their way forward in collaboration, creating the foundation of a warm journey of recharging and refreshing.
After the workshops, teachers expressed joy from their participation and their renewed interest in collaborative teaching and research:
Through the preparation and delivery of the workshop, we reflected on our team's planning and implementation of the cross-subject project, and received feedback from colleagues from both the Middle School and High School. The feedback gave us confidence and encouragement for moving forward and further improvement.  – 占盛丽 Shengli
Delivering a workshop is a rewarding experience. Collecting information for what one intends to do and putting it together to present to others encourages one to reflect on what he/she is doing and why he/she is doing it. Presenting and then seeing teachers involved (e.g. asking questions) makes all the hard work worthwhile. – Andrew Watt
In my workshop, I reviewed what we have done for the Grade 6 cross-subject project. With the review, we looked at the logic of the project and reflected on each stage of its progress; these actions helped me understand the project more deeply. I was delighted to work together with both Ms. Zhan Shengli and Mr. Andrew Watt – I benefitted a lot from their professionalism and open-mindedness. ——柳洁挺  Jetty
I found that preparing the workshop gave me a greater understanding of the subject, as I had to organize my thoughts on it. I also learned how to make a video within PowerPoint, which is extremely useful! Although it took a long time, it was rewarding. — 高中部Simon Colin Macbeth
Dance, as a social activity, helps strengthen bonds between those who practice it. As a physical activity, it helps bodily coordination as well as memory and mental health. A quiet and safe environment also allows people to de-stress and get out of what, for many, constitutes the academic burden of everyday life. With high participation, primary and secondary teachers attended the workshop with an open disposition for learning and practicing different Latin American musical rhythms. It was a fun experience that helped teachers to recognize auditorily and choreographically differences in the rhythms presented and to share happily with their peers.  — 小学部Erika Janeth Cardona Gonzalez
Delivering a workshop is an extremely rewarding experience; much like reflecting on teaching and learning, it often sheds light on what we (do not) know as much as what we (think) we know. Speaking and presenting in front of colleagues can be nerve-wracking, but the open-mindedness of our professional staff helped me overcome any fears I had about their engagement with the strategies. —小学部David Scott Robert Hockley
Now that I look back on this unforgettable experience, from the initial nervousness and apprehension to later, full of confidence, the process in between was hard but incredibly happy because not only did I gain knowledge and improve my ability, but more importantly, I gained confidence. Suddenly, I found it valuable to share my work experience with my colleagues other than math teachers, in the workshop. So, I would like to thank the school for this platform.
It was a pleasure to have this opportunity to do the workshop with Ms. Summer. Homeroom teachers' work is sometimes fragmented and unsystematic. However, while I was working with Ms. Summer to compile examples of good classroom management and strategies for communicating with students, I realized that establishing a classroom culture, reaching people's hearts, stimulating students' internal motivation, giving full play to their initiative, and developing students' autonomy are the standards for a good classroom. So, while combing through individual classroom teacher's excellent cases, it was in itself an experience of growth. Although I stayed up for many nights, I gained so much that it was all worth it! Thanks again to the school for giving me such an opportunity!
The greatest feeling I experienced as the facilitator of a workshop was, "If you have hope, you will not be at a loss". In the process of preparing the workshop with Ms. Ron, we kept thinking deeply about the relationship between 'building classroom culture' and 'classroom management', which was actually a 'fresh review' and 'summary' of our own classroom management practices. The process of 'learning' and 'summing up' was a new one for me. After the sharing, I exchanged ideas with the workshop teachers, which made me realize something else: that the building of classroom culture is never achieved overnight, and that its greatest power is to make such efforts silent.
I have always been puzzled by the fact that some teachers are able to establish time to do research when their daily work is so trivial and busy. In the three years since I joined SUIS Qingpu, I truly believe that simply repeating teaching activities based on one's experience alone is not enough. Led by the national and municipal key research projects at our school, I have also made some practical attempts. While in this process, I decided to help lead a group workshop, and I thought it was the best experience for me to change from a practitioner to a reflective one. Having been helped, guided, and inspired by others during the workshop, I hoped that I was in turn able to show the value of my perseverance and to influence others like the wind.
In the early stages of preparing for this workshop, I chose some pleasant and cute painting materials in consideration of the length of time for the workshop and teachers' interests, and assigned stars to show the difficulty level of the activity – these really had an ideal effect. After participating teachers chose their favourite materials, they put aside their initial fears by putting their brushes into action (not being sure if they could paint), in the end completing works of excellent quality. This showed that everyone has a talent for drawing. Although it was hard to prepare for the workshop, the teachers who participated were chatting with friends while relaxing and painting, which brought me a profound sense of achievement, as I was able to use my strengths to create a space where our colleagues could relax and experience art together.
A Cross-subject Project for Humanities Subjects in the Middle School: Challenges and Rewards
占盛丽ZHAN Shengli、Andrew James Watt、 柳洁挺 LIU Jieting Jetty
《IELTS grading》 Simon
《Philosophy for Children (P4C)》David Scott Robert Hockley
Professional Title Evaluation and Professional Development 李明伟Kevin li
《儿童哲学(P4C)》刘桂香Helen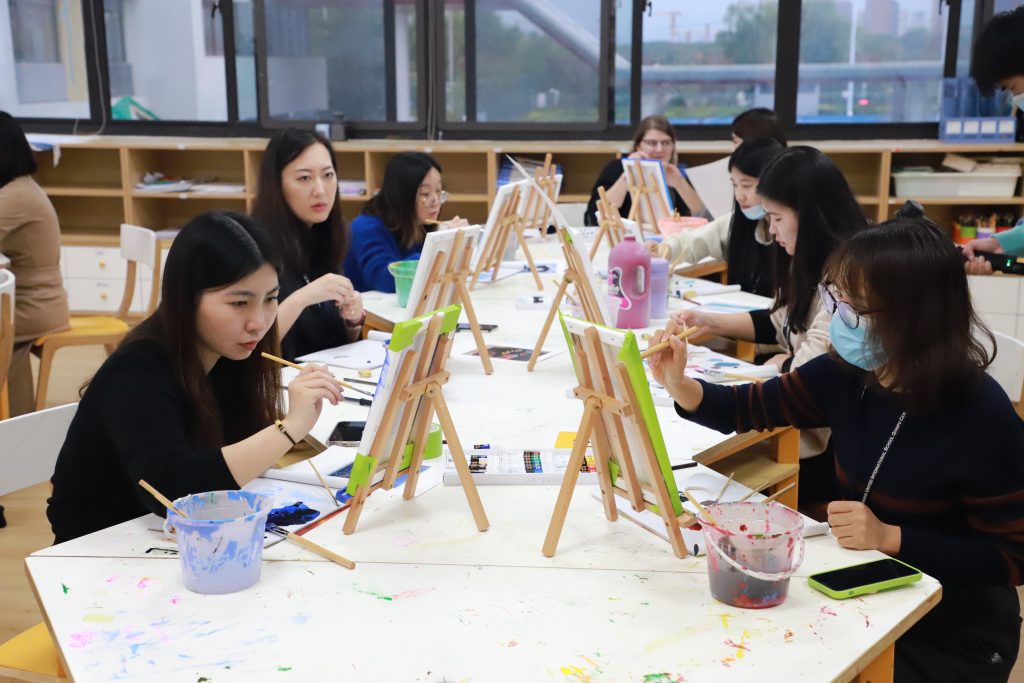 Oil Painting with 'Zero Experience' 石青华 Becky
《Latin American Social Dances 》艾琳 Erika Cardona
《STEAM》施剑锋 Steven Shi
Class Culture Construction Tips 高园生Summer Gao  符荣荣 Rong Fu
A Preliminary Exploration of Final Assessment Based on PBL 俞珉妍 Isabel Yu  高莹莉 Lily Gao
We also received some feedback from our attendees.
I would like to thank Ms. Helen for leading our efforts on how to set activities through various ways to better engage our students, and to design topics that are of interest to our students.
What a meaningful activity! Interesting and relaxing.
Thank you, Ms. Summer and Ms. Ron for preparing the workshop!
Thank you all for these wonderful workshops – we benefitted a lot!
Amazing! Dr. Zhan!
Looking forward to the next workshop.
Thank you, Mr. Steven! You are amazing! I hope that next time, you could show us more STEAM experiences.
Thank you, Ms. Becky, for tutoring us individually! You are brilliant!
Thank you, Mr. Kevin, for your professional sharing – I benefitted a lot. You are a great mentor for professional development.
 Thank you, Ms. Erika! That was a wonderful experience – we totally enjoyed learning various kinds of dances from Latin America.
We should do this more often. Thank you!
Thank you so much! I will pay more attention to students who are less skilled in class.
Thank you, Simon! I really enjoyed learning about IELTS from someone with so much experience. The effort that you put into your workshop's preparation was very much appreciated. I am now looking into being an IELTS assessor!
The workshop was hands-on, interesting, practical and very inspiring.
 I am looking forward to the next P4C training!
"A journey of a thousand miles begins with a single step". This workshop event was a wonderful beginning for inter-departmental and inter-disciplinary teachers' mutual support and progress, and a new starting point for teachers' professional development. In the planning for future events, SUIS Qingpu will continue to integrate the concept of innovation and holistic education and achieve comprehensive integration through 'two cross-learning exchange.' Let the process of 'academic exploration, innovation and practice' continue to engage every teacher and student at SUIS Qingpu.
Together, we can learn and grow. We would like to thank all the school departments for their full support – the teachers could not have had a better experience without their wonderful cooperation. We look forward to the next PD workshop at SUIS Qingpu!