Explore Africa Enrich your experience
From the highest point in Africa, Mount Kilimanjaro
To the deepest part of the rainforest in the Congo Basin
From the magical east African Rift Valley,
To the hot Sahara Desert,
In this month, we explored together under the guidance of teachers of various disciplines
Africa – the vastest wilderness in the world, a vast land
From nature to art, from animals to humanities,
We enjoyed the rare African scenery together
And listened to stories untold. 
African Carnival English subject activity SUIS Voice is an experiential activity designed by Chinese and foreign teachers for children based on Chinese and foreign reading courses. In the daily reading course, students are taught reading strategies in the form of guided reading and reading circles。Working in tandem with the theme of Africa in the carnival, children share the books they have read about Africa in the form of speeches, so as to enhance students' interest and attention in reading.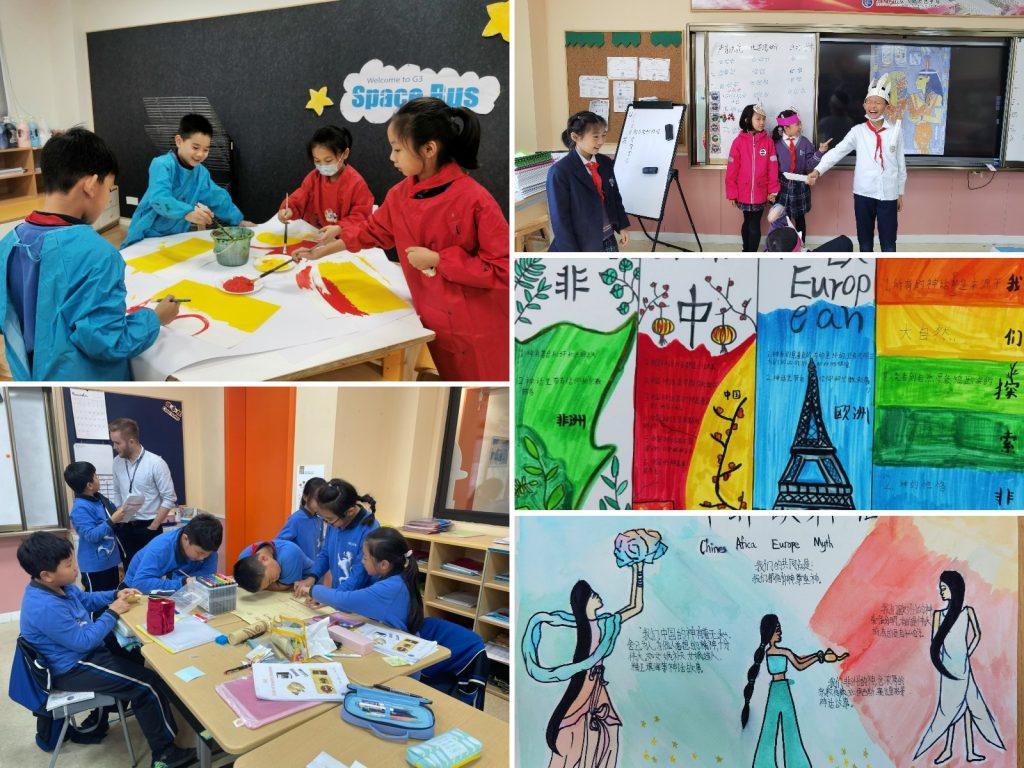 In English Language Arts, Grade 4 students follow the Cambridge Primary curriculum. Our aim is to assist the students in developing certain skills that they can consistently demonstrate mastery of. For example, in our Carnival Unit we are using procedural texts to create rules for a board game about Egypt. We are looking for the students to be able to sequence the rules logically , using higher-language, connectives and demonstrate good spelling skills.
Over the course of 4 weeks year five students were exposed to various forms of literature from Africa.  They read fiction and non-fiction books and then prepared books reports about their understanding and engagement with the texts.  Students were able to appreciate the differences in culture and make connections to their own lives while reading variety of books from the continent of Africa.  Some have even identified new favourite authors.  Students who presented their book reports went on to participate in SUIS VOICE. This competition allowed students to practice their speaking skills and be awarded for their efforts.  This was a deeply rich learning experience.
Children of all grades recorded what they learned in the Chinese classroom in different ways. Some children shared their feelings and understandings of African fables with paintbrushes and cameras; Some children stand on the stage and show the excellent qualities of the characters in African fairy tales in the form of stage play performance; The children who incarnate as "little designers" combine the characteristics of African cultural customs with art design to  create a unique African cultural shirt.
Children use mathematical geometry in architectural design through different creative techniques and forms of expression, and build African style buildings through waste utilization.
This art exhibition is prepared by the primary art school for the closing ceremony of the African carnival.
During the African Carnival, students were immersed in enjoying and learning different African performing styles.
More wonderful performances will be announced for you at the concert of the closing ceremony. Please look forward to it.
In Qingpu Xiehe, it is through the project-based inquiry learning of intercontinental Carnival again and again that we  break  the curriculum framework,  strengthenthe integration and cooperation among  disciplines, awaken children's internal learning ability, and cultivate initiative,  cooperation, self confidence and understanding. 
The intercontinental exploration course broadens children's space time concept and humanistic vision, makes all knowledge and abilities play a role  together, trains students to  become better lifelong learners, future responsibility  bearers and problem-solvers, and constantly improves their ability to solve real-world comprehensive problems.