P4C (Philosophy for Children), is a teaching pedagogy based on team inquiry and philosophical dialogues. It aims to develop children's critical, creative, caring and cooperative thinking skills.

At the beginning of the new school year, 20 teachers from our school formed a philosophy exploration group which full of care, criticism, creativity and cooperation thinking. Carol was  the child philosophy trainer, teachers are not only walked away with theoretical knowledge of child's philosophy,but also practical enquiry skills. 

"An effective group exploration needs to have a safe, comfortable and respectful atmosphere. The training was aiming that everyone can share their ideas without worrying about being commented, criticized or having negative consequences;everyone can also respect, tolerate and accept the questions or views raised by others. Acceptance does not mean accepting the views of others, but responding to them honestly and rationally.

Day one, teachers were building a sense of trust through constant interaction and discussion. At the same time, teachers have a deeper understanding of how to let students speak freely and maintain respect for the group. In the whole process of inquiry, teachers asked the question " Is your change due to motivation or results?". Under the guidance from the trainer, teachers sorted out the concepts, levels of thinking and conducted creative and speculative reasoning and dialogue. "Interesting, brain burning, knowing self" was the reflection from many teachers on day one.

Day two, by experiencing different philosophical inquiry strategies and discussing the whole process, teachers from different disciplines have a deeper understanding of children's philosophy. Teachers discussed in groups how to practice children's philosophy in their own disciplines and how to help students learn to think better. Matthew Lipman, the founder of children's philosophy, believes that "the reason why children can't learn is that they are not taught to think."

As a new teacher who has just joined the WUIS family, miss Winnie said after two days of P4C training:
When you first heard the term "philosophy for children", what would your first reaction be? What is children's philosophy? Do children also have philosophy? Why should children learn philosophy? With these questions ans curiosity, I participated in the first level training of children's philosophy.
Surrounding by a safe and rational environment, the training process was easy. However. It was brain burning. It's easy for teachers to share different opinions and there is not such right or wrong answers; brain burning was that teachers need to ask questions and constantly construct ideas of ourselves and others.
Children are born philosophers. I'm looking forward to think and explore with all my children and new inspiration and cognition that they will have all together.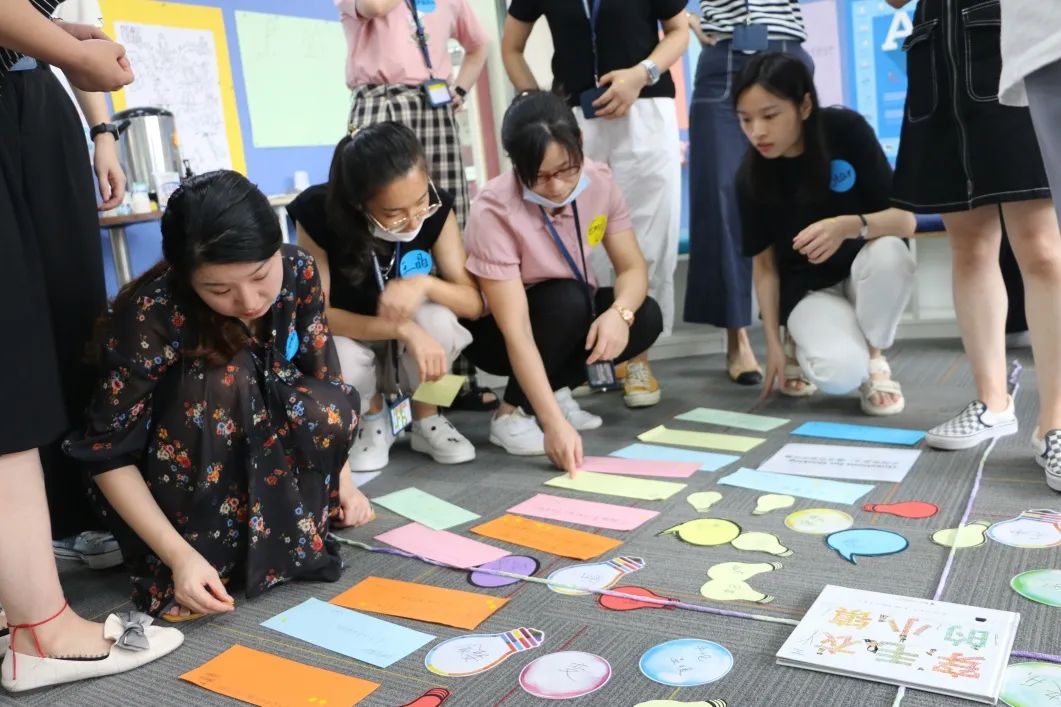 The goal of children's philosophy is not only to strengthen children's good reasoning skill, inquiry skill and concept formation skill, but also to cultivate children's wisdom and social virtue, and then trigger their transformation into more rational individual committed to create a rational world.。
                                                                                                                          —— Ann Margaret Sharp
P4C is a pedagogy; a way of teaching and learning. The purpose of P4C is to help children become more skillful thinkers. It is the beginning of the purpose of encouraging children to think. In the new school year, if you are a history teacher, you can be a philosophical history teacher; if you are a Chinese teacher, you can be a philosophy Chinese teacher… Let's practice children's philosophy together and let ourselves become a philosophical teacher who is diligent in thinking, asking, listening and acting.