On May 27th, 2021, Wuxi United International School's graduation ceremony was held in the school theater. All students and parents from grade 12 attended the ceremony. At the same time, Fanzhong, deputy director of Xishan District Education Bureau of Wuxi, and Sheng Hanping, Deputy director of Wuxi Cuiping Mountain Tourism Resort management Office  ,joined the ceremony.

Angel Lin,principle of Wuxi United International School, delivered a speech:

Dear leaders, parents, teachers, alumni, and our DP2021 graduates, good afternoon! Welcome to Wuxi Xiehe to attend the school's fifth high school graduation ceremony. Time flies, here we are with our fifth year graduates already. Many teachers have been welcoming the students to the school for five consecutive years, and now they are participating this graduation ceremony and proudly sending you away.
As of today, our 24 graduates have received 127 admission notices from 8 countries and regions, and received scholarships of about 1.58 million yuan. Please allow me, on behalf of the school, to send the most sincere congratulations to the graduates who have studied hard; to express my deep respect to the teachers who have worked hard and devoted love, wisdom and hard work to the growth of the students; and have support selflessly. And parents who encourage and accompany their children through out the study.
I know that the principal's graduation speech is usually directed towards a life course with lofty intentions, but today I just want to share a few words with you from the perspective of one and one's heart.
First of all, I want to say that in the past year and a half, because of the epidemic, each of us has experienced challenges that we have not experienced before. For our graduates this year The epidemic has also caused a huge impact on the lives of some of us.
Therefore, I would like to propose that let us embrace our graduates, past graduates, and all the students, teachers, parents and guests present here with the warmest applause. Well done, everyone.
I would like to ask you to think back to the past year, those moments that have allowed you to stop, smile, and be full of power. It may be a certain rain, the leaves are greener than you think, the sunshine is just right, and you know everything will be fine. Or when the you were just tired of all the works, and gain energy after having a piece of cake at the coffee shop. Or it may be the last minute of assignments, IA, EE, TOK deadlines, despite struggling, but somehow completed on time; or it is simply the moment when a friend or family member.
You see, we can find happiness even in the worst of times. The challenges allow us to know more about ourselves, what is most important to ourselves, and what is just what seems to be important. Sometimes, we bear the test of life we seek help from others. Because we know, when our loved ones need help, we never refuse to give a hand. Life is made up of many small moments, and these small moments change us beyond our imagination.
Finally, I want to say that the world is changing in a way that we cannot predict. How to face this ever-changing era, as we grow up, each of us will find a standard and method of judgment that suits us. Professor Liu Qing once quote from h Hellent: "In terms of making judgments in various special situations, there are no constant prevailing standards, and there are no definite rules."  In various situations, we can only take the risks, judge the circumstances, and make our own independent judgments and take responsibility for it. This is an extremely difficult moral task for citizens in modern society.
The reason why I talked about morality with you because I firmly believe that the younger generation, who were born in a social state of material abundance, your pursuit of the spiritual world, and your protection of truth, goodness and beauty, will be far higher than the past and the present. Of us. Therefore, we should understand the true self and be a true self. The essence of life is not how splendid it is, but how people care and warm others in this society.
In our life, we always explore. Enter the university and start your adult journey. The scenery along the way is wonderful, but don't forget to take care of your inner warmth and innocence. 
Congratulations again to our graduates!
Mr Fan, Deputy Director of Xishan District Education Bureau gave a speech:

Dear teachers, parents and students, good afternoon.
In May, we just celebrated the sweat of the workers and commemorated the years of youth.
Today, we greet in another important and unforgettable day – Wuxi United International School 2021 graduation ceremony.
It's my honor to represent the Xishan District Education Bureau and to experience this important moment with all of you.
First of all, let us give the warmest congratulations to the graduates with warm applause, but also to teachers and parents.Wuxi United International School is in the first place of international education in Xishan District, it has a system with complete, innovative teaching concepts, unique curriculum, distinctive teaching characteristics and professional teachers, it is a highly professional school.As the leading department of Wuxi United International School, Xishan District Education Bureau has been closely following the growth of school.
Over the past 8 years, we have seen Wuxi United International School's perseverance, motivation, pursuit and growth.
Today, I'll represent the Xishan District Education Bureau to attend the 2021 graduation ceremony of WUIS. I want to share the happiness with the school, with the parents, and the students. It's our destiny.Graduation is the end, but it is also the beginning. You are entering a new world. Congratulations. And your life also needs to be accumulated slowly, so I hope you will adhere to the IB teaching concepts, keep learning in your life.
As you go abroad to study, I believe that now you have enough confidence and ability to start a new journey. Hopefully, along the way, you will always be able to think critically and innovatively.
As graduates of international schools, you will see a bigger world, and your future is worth looking forward.
But please remember: your life, has been infiltrate by the excellent chinese traditional culture; Your life has been dyed by Tin City; Your youth has been shaped by the diversity, balance, tolerance and innovation.
I hope that when you are studying abroad, you can take up the challenges, and not forget to spread the culture of your motherland. I hope that you can have good talent, ideology and moral character. I also hope you can come back and help to build a stronger motherland and enjoy your life.
Finally, I would like to congratulate to all the graduates with my best wishes to every parent and teacher. Thank you!
Mr Sheng, Deputy Director of Wuxi Cuiping Mountain Tourism Resort Management Office  gave his speech as well. 

Dear teachers, parents, and fellow seniors,
hello, everyone! Today is May 27,202. It could be an ordinary day in many people's lives, but for some of the students, parents and teachers here, it is a day of extraordinary significance in life, because this day foreshadows the great transformation of students' life from High School to College, from youth to maturity. It is a great pleasure and honor for me to attend the graduation ceremony of the fifth senior class of the Wuxi United International School to witness this important moment in your lives. Here, on behalf of Xidong Business District, I would like to express my sincere congratulations and best wishes to every graduate, and to pay high tribute to every teacher and parent who accompany, care and guide the growth of students.
From zero to one, which means from nothing to something. From 2012 to 2013, the business district invested nearly 300 million yuan to build and put into use Wuxi United International School. From then on, the beautiful river bridge of Xidong and the green water and green peak have added the sound of reading and the dream of youth. Over the past eight years, the Wuxi United International School has developed its own solid path of international education. From 1 to 8, a symbol from the start to create infinite possibilities, a symbol of countless expectations and care into each heavy dream of the realization. As a participant in the construction of the school and a witness of the development of the school, the business district is moved by the exploration and persistence of Xiehe along the way.
The construction of "open, ecological, international" modern new city is the business district has been adhering to the goal. As an important part of public service facilities, the Wuxi United International School is one of the symbols of the modernization, internationalization, high-end and quality development of the business district. The global spread of this new corona disease has convinced us that humankind is a community of destiny, that globalization is our goal and that it is a challenge that we must always be ready to meet. It needs innovation and more talents to activate industrial competitiveness, enhance industrial strength to deal with international risks, and accelerate the cultivation of new science and innovation enterprises. The development of Xidong New District must depend on education, and Xidong New District is willing to initiate the task of developing education and incubating talents.
Over the past eight years, Wuxi United International School has grown and Xidong New District has matured. You have completed your studies with the support of the government and the school, with a sound personality and the ability to learn for life. You are the darlings of your age. You have the world to yourselves. I believe that you will become a representative of Wuxi and even of China, and I hope you will become a powerful force in building Wuxi and China.
Here, I would also like to express my heartfelt thanks to the parents here, thank you for your trust in Wuxi United International School and Xidong New District. Under your witness, the Xidong New District has achieved outstanding results in various stages. I hope you will focus your attention on the Xidong New District and Wuxi United International School and offer your valuable opinions, join us and develop with us.
Finally, I congratulate the senior three students again on realizing their dreams and embracing their ideal university. Thank you again, parents, teachers, I wish you peace and happiness. Thank you!
Grade 12 Alan Lu made a great video in celebration of his and his classmates' graduation.
IBDP Coordinator, Ms Basu addressed to all the graduates.
A very good afternoon and a warm welcome to all our eminent guests, teachers, parents and school community members and especially our amazing graduates of 2021 who have made it till here.
I am absolutely honoured to be addressing the fifth IB DP Cohort at WUIS as a DPC and a second one as a parent myself. I feel elated to welcome all parents of the graduates and resonate with the mixed feelings that we all share at this moment. For us the decision of taking our children through the journey of being an IB DP graduate has been a big one and I am sure the best one. 
I can see the confidence that we have in our children sitting here as the 2021 graduates. The confidence to go out and face the world and its challenges. The rigorous IB Diploma program and the immense sleepless nights that it brought for all of them has finally bore fruit. They now stand at a juncture, all ready for a successful University life. 
I am fortunate to have witnessed the transformation of these IB graduates very closely along with our amazing team of qualified, knowledgeable and experienced teachers here.I have seen the personal goals that they had set for themselves and how one at a time they achieved most of them . For some the targets were improving their knowledge base, for some it was teamwork, leadership, engagement with community, for some it was developing research and communication skills, aiming for the top Universities while for others it was overcoming the barriers of writing several assignments using proper subject based academic language.  It has been a roller coaster ride for most of them, having to face the tough challenges of IB diploma program. To quote Nelson Mandela- It always seems impossible until it's done.  
Whether it is the critical thinking , voicing your opinions for TOK presentations and the essay, or immense research and academic presentation that went behind your extended essay or developing yourself as an active , creative individual all ready to serve the society, you will now be able to see and feel how the IB core has shaped you as a human being . It has given more meaning to the grades that you will get in the final IB result by adding value to your personality.
At high school , many people try to define "Success". Some might connect it to the meticulous planning, diligent hardwork, planned risk taking or even sheer luck . For me Success has been more connected to the word "Resilience" or your ability to bounce back.
Sharing a favorite quote of mine by George S Patton- "Success is how high you bounce when you hit the bottom". You must be wondering why I am referring to the word "bottom" here? The existing situation of the pandemic in the world outside has created this uncertainty in all our lives , where travelling , meeting people, taking a decision of studying in a University is not as simple and same as before. It might also be that the next four years of University life that every graduate looks forward to might be completely different from your dreams and expectations. 
I have always believed in one thing. It is not what you have, but what you do with what you have. One year back I had shared this quote and I think we still stand there where Jack Ma mentioned that  – 2020 is really just a year for staying alive. Now it seems a few more years may be for hanging on to this idea. He said don't even talk about your dreams or plans. Just make sure you stay alive.  If you stay alive you would have made a profit already. Hence it is how and what you make of these uncertain times that support your dreams and help you persue your passion. In whatever way your University life embraces you , make sure you make the most of the same in your life. 
So success as you can see Graduates , is very relative. Its dynamic and changes with time. What meant success to last year's cohort might not mean the same to you. And neither would it be same next year. So this year be prepared to face the odds and ensure that you are protected in every situation. As globalization demands mobility and uprooting our zones of comfort let us all wish good health , safety and long life for all our members here or stranded elsewhere. 
Dear graduates, today I do not bid you farewell as this is just the beginning of new relationships. I would like to be in touch with you in your next part of journey and want to hear more from you about your experiences in future as I keep hearing from other cohorts.
So Ladies and gentlemen, here we have 2021 graduates who personify all the IB learner profiles and will carry the IB mission statement in its true sense to the various countries where they are going to be. Let us join our hands to clap and appreciate the feats achieved so far by the budding artists, musicians, directors, actors, scientists, entrepreneurs and future economists. A big round of applause for all of them as we wish them the very best for a bright and successful future ahead.
Angel Lin、Zuyu Zhou、David Edwards and Rebecca Cao presented the graduates with certificates as well as their semester awards.

Grade 7 and 8 band performed a song to celebrate this moment.

Behind the success of every student is the invisible love and consistent giving of the parents. Grade 12 Erin Kang will soon study in HongKong University and she has always been a role model. Her father shared his stories behind his daughter's great success. 

As Benjamin Franklin said, "Lost time is never found again" and hope Grade 12 will cherish their time at the school forever. Chris Kim and Candy Xu addressed us for the last time as student leaders.

The girls of Grade 12 Candy, Lois, Sunny and Linda sang a song to commemorate their youth.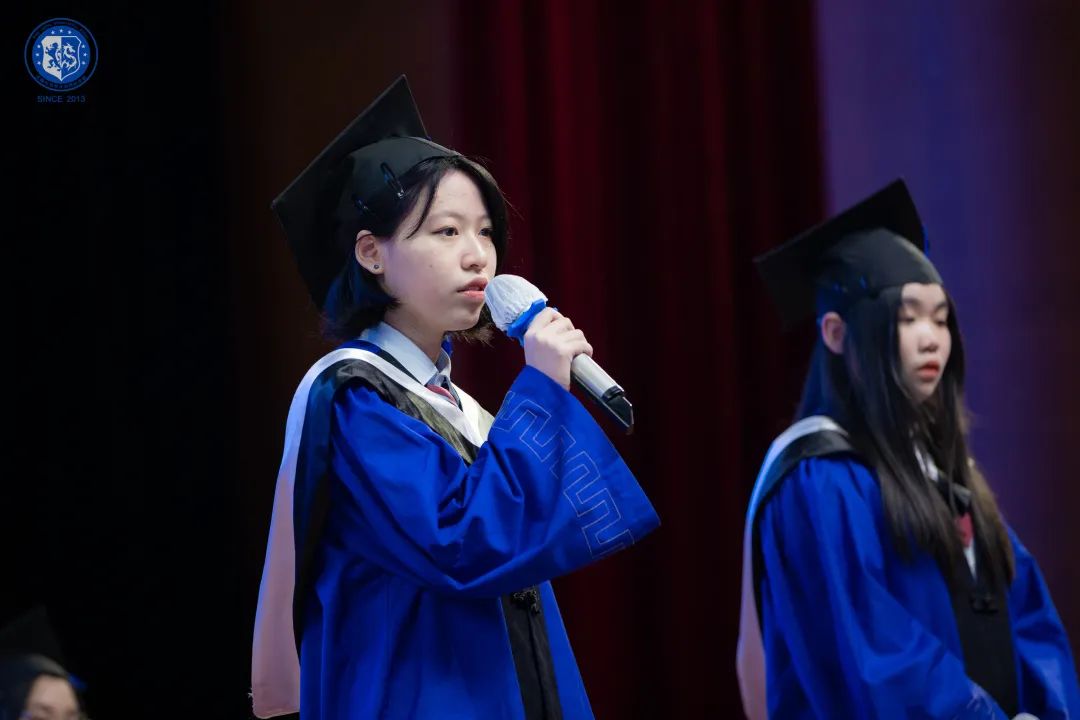 Two years ago, the same day at his graduation ceremony, an Indian boy impressed us with a song called Photograph. Today, a big day for his younger brother, Rupert performed a solo .

Throughout the world, there are millions of sayings that express gratitude to teachers and how a good teacher has a deep impact on one's life. Here in WUIS, every teacher means a lot to us. They teach us, guide us, support us and are true friends of us. It is the time for us to say thank you. Grade 12 students have prepared something special to their beloved teachers. Now they are going to send the gifts to them. Thank you, my teachers!

I believe everyone will remember this moment.
Finally, everyone enjoyed a performance by grades 7&8 as a gesture of gratitude to the seniors who are graduating here today.