On April 16th, Wuxi United International School Fun Fitness Day was held as scheduled. Spring is boundless, students are happy and excited in the spring sunshine. They release their energy and strength of the winter on the sport grounds, showing their vigorous vitality.

During the past few weeks, the students prepared well for a successful event. There were many exciting performances throughout the day. Parents and friends joined us to make it a fun day.

Life is a long-distance running marathon. Those who start early may not necessarily have an advantage, and those who start late may not necessarily be at a disadvantage. The key is to work hard and to always persist. Persevering the whole process will make you proud of what you achieved; retreating halfway, will not be satisfying and the aftertaste of the results will be there forever.

Through their physical coordination and personal training, the students perfectly interpreted "You will win if you love to work hard."

The students carefully abide by the rules of the competition, with a keen sense of competition and strong physical support, working hard for the phrase: "I am a champion!"

The two ends of a rope are verses from time to time, the ends of a rope are the judgment of winning and losing. The determination and hard work of the students to win is greater than the meaning of the result itself, because "effort is great!"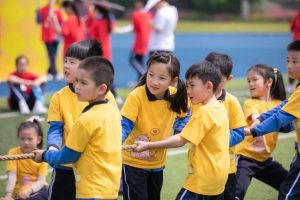 In this year's competition, the athletes are full of spirit. They have carried forward the Olympic spirit of higher, faster, and stronger. The students adhered to the theme of "Harmony, Unity, and Innovation" and the principle of friendship and competition. The spring day came to a wonderful end.

In this fun fitness day, both the winners and the losers have realized what is mixed with joy, joy, anger, sorrow and joy, life is like this, there are bitters and sweets. As long as you do it earnestly and sincerely, nothing can stump us. Therefore, everyone must understand that never give up is a hero. Keep up, everyone! In bringing such passion to the next Fun Fitness Day.
The fitness activity lasted the whole morning. All the students showed great enthusiasm for the day. The integration between the Chinese and Western cultures showed on the day. Adhering to educational philosophy, the school created more stages for the children to show what they can achieve. Through today's activities, we enriched the students' after-school cultural life, exercised the students' physical condition, and trained the students' awareness and ability to be lifelong sports enthusiasts. A strong youth is a strong country!