"The power of youth, vigorous and magnificent. Growth path is full of trials and hardships. Are you still going? We should spare no efforts to chase our dream. Hello, this is the campus Robin Radio Broadcast. We are here for you!"

Wow, what an impassioned opening speech! The beautiful voices come from handsome male hosts Ricky QIN, Sunny LI and Kemmy LI. Brilliant copywriting by talented female creative writer Claire SHEN. The beautiful background music was chosen by art student Dane GAO. How could the station work without Ricky LI's technical support? In addition, we have Candy HE in charge of publicity and Candy WANG in charge of review.
Claire
A year ago, Claire SHEN in her grade 11, wanted to comfort students during their lunch break through some medium, so the first campus radio station came into being. Since its inception, Robin has brought 8 wonderful programs to the teachers and students. All members of the station take time out from busy IB learning to write project, make posters, recruit members, discuss topics, write review, select music, manage WeChat account, Bilibili webcast, etc., Despite the difficulties, they always adhere to the mission of radio station: spread the cultures and spirits of WUIS, the nation and the world, empower schoolmates to obtain knowledge at their leisure time and help them develop their personal cultural literacy, stimulate reading interest and creative thinking.

How can the campus of youth be short of band? Raphael WANG, who has been learning guitar for eight years, started the band when he was in grade 9. Although there were members coming and going and intermittent practice, he never gave up as the band leader. After almost every lunch break and evening self-study, we could see him on the stage of the school hall discussing the music score with other members and practicing over and over. His band, "Still Thinking," performed at school assemblies and talent shows and was our favorite. Such a teenage boy full of artistic temperament is also a scholar of science. He has now received offers to study biology at University College London, the university of Edinburgh and Durham University, microbiology and immunology at McGill University-one of Canada's top universities, and biological sciences at the University of Toronto.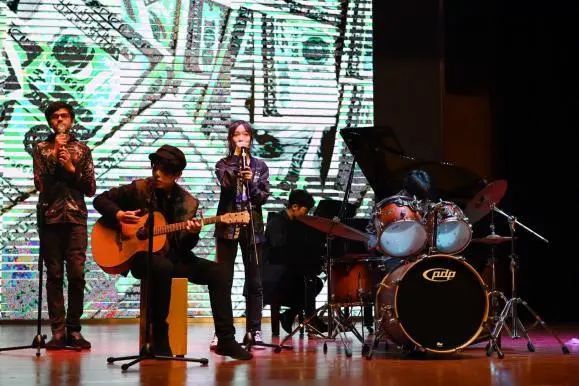 "I fell in love with the Beatles' costumes because I liked their music and it never stopped." Dane GAO, a grade 12 student, has been fascinated by fashion design since grade 9. For this reason, she chose to leave a famous public high school and transfer to our school to study visual arts in the pre-IB program. In the summer of 2017, she left for Italy alone to study photography, illustration and costume design at Accademia di belle arti DI NAPOLI. She also started a fashion club at school to teach her members the skills of painting and draping. She volunteered to help others sift through materials, discuss how to complete a portfolio, and put on a successful fashion show. Art majors walk longer and harder than other majors. It is often said that art students need to walk on three legs to apply for university, "IB study, standardized test and portfolio". Among the enthusiastic young people who choose to major in art in 2020, one third of them have a persistent dream. Every piece of their work needs a lot of effort and time. Let's enjoy the works of Dane GAO, Candy HE and Cris CHANG.

In addition, we also have Lily DU who counterattacks in final exam, Czech teenager Viliam who aspires to become a diplomat, head boy Ryo SHUDO who dreams to take the spotlight in international business market, and so on.  Every student is unique and brilliant.

The only constant in life is that things change so quickly, may your original dream remain unchanged!
Excerpt from Robin Broadcast, 8th