Today is a special day for Wuxi United International School as our first Xiexi Principal's Scholarship was officially announced. Three students won a total of 317,400 RMB scholarships for their outstanding academic performance. The awarding ceremony was held in the school's grand theater at 8:20 am.
Principal Ms. Angel Lin gave a speech. She expressed her sincere congratulations to the three students who won the prize, and her heartfelt thanks to the parents who have been supporting the school and accompanying the students' growth. After six years of exploration, the school has gradually developed into a stable and mature school. Students' achievements have also grown up through hard work. Three students winning the Principal's Scholarship in the first year shows us there are many outstanding students around us.
The award of the scholarship is a witness to your outstanding achievements and positive attitude towards life. Every effort you make is one step further to success. We hope to accompany each of you and feel the harvest behind every effort. The other purpose of the scholarship is to set a glimmer of light and an example for every student. When faced with a challenge, it's easy to find reasons to give up. I'm in a bad mood, I don't understand, my classmates influence my study, my teacher doesn't teach me, and so on. It's so easy to give in to challenges, but you should know that by giving up a little bit on every little difficulty, the gap is beyond your imagination. This is the difference between 0.99 to the 365th power (0.03) and 1.01 to the 365th power (37.8). So, when faced with all sorts of little difficulties, look up at the glimmer of light ahead of you, the example beside you.
Xiexi Principal's Scholarship is a five-year program and we look forward to seeing more qualified students apply for and successfully obtain our Xiexi Principal's Scholarship every year in the future. We want to share your success that comes after hard work.
Later, Principal Ms. Angel Lin, Vice Principal Mr. Zhou Zuyu and Vice Principal of secondary, Ms. Lucinda Holmes, presented awards to the three students.They are Candy,Chris and Erir from Grade 11,Candy got 7 A or A* in IGCSE,Chris got 8 A or A* in IGCSE,and Erin got 114 in TOFEL.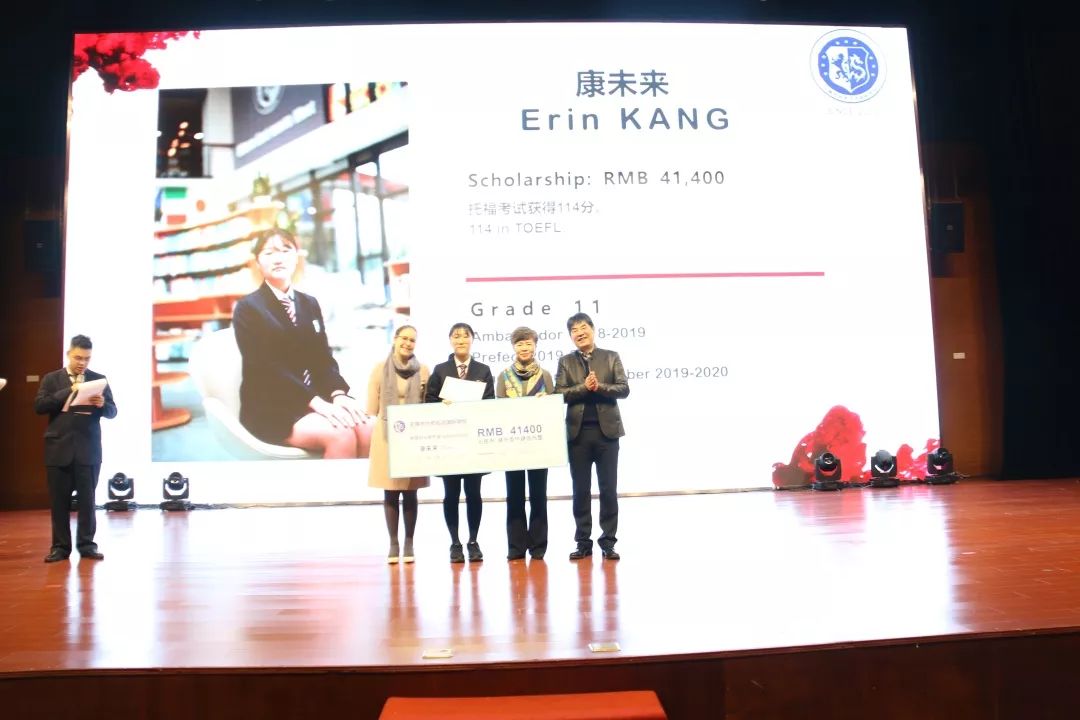 There are very few genius in the world. Behind every outstanding child, there are parents' accompany and support. Nobody would know this better than a parent. G11 scholarship winners Candy Xu's Mother gave a speech as a parent representative. She reviewed Candy's five-year study life at WUIS and expressed special thanks to the school for providing a warm environment for the child's grow as well as her heartfelt thanks to the teacher and classmates. She also said that the scholarship system is not only affirmation of the students' academic achievements but also motivation and encouragement for them to work hard.
On the way to success, in addition to the cultivation and company of parents, their own efforts are indispensable! Chris, another scholarship winner, speaking on behalf of the students, said that if there's a trick to getting an A* or an A, it's to enjoy your learning and enjoy every moment. This allows me to concentrate in any class and finish assignments on time.
Ms. Lucinda Holmes, Vice Principal of Secondary, encouraged every student to be ambitious and work hard for it. Success is not something you are born with. As long as we are ambitious and aiming for the goal with persistent, success will come.

Let's share this glorious moment together!