It's getting cooler with the Cold Dew, the students and teachers of Wuxi United International School are enthusiastic about their university applications.!
From October 14 to November 1, we have invited many universities to visit us. Face-to-face communication with the admission officers not only can obtain the latest admission information, but also is a good opportunity to show yourselves! The following is the specific information of each school visit. Dear parents and students, please arrange the time and attend on time.

Please refer to the following list of universities.
The List of Eight Universities visit on Tuesday 
1.École hotêlière de Lausanne,Switzerland (the world's first hospitality management school)
2.Bocconi University, Italy (a QS top 10 business school)
3.Jacobs University, Germany (Germany'spremier English-language research university)
4.Carl Benz School of KIT, Germany (the best Mechanical engineering school in Germany)
5.IE university, Spain (a top international school in Spain)
6.MODUL University, Austria (the best international school in Vienna)
7.Shannon College of Hotel Management, SCHM
8.Furman University
The List of TEN Universities from U.S.A 
1. Whitworth University
2. University of Redlands (California) 
3. University of Nebraska Lincoln
4. University of South Carolina
5. Westminster College (Utah) 
6. Kent State University (Ohio) 
7.Roger Williams University (Rhode Island)
8.Depauw University
9. Illinois Wesleyan University
10. Wheaton College
TEN Universities from America will visit our school on Wednesday, Oct.16th. They will hold a university fair at Gym first, and then there will be four different sessions in four classrooms at the 3rd floor, please see the details below and choose one session you would like to attend and please be present on time on that day.
时间:12:15–12:45
内容:University Fair 
地点:Gym
时间:12:50–13:40
内容:Four Different Sessions
地点:3rd Floor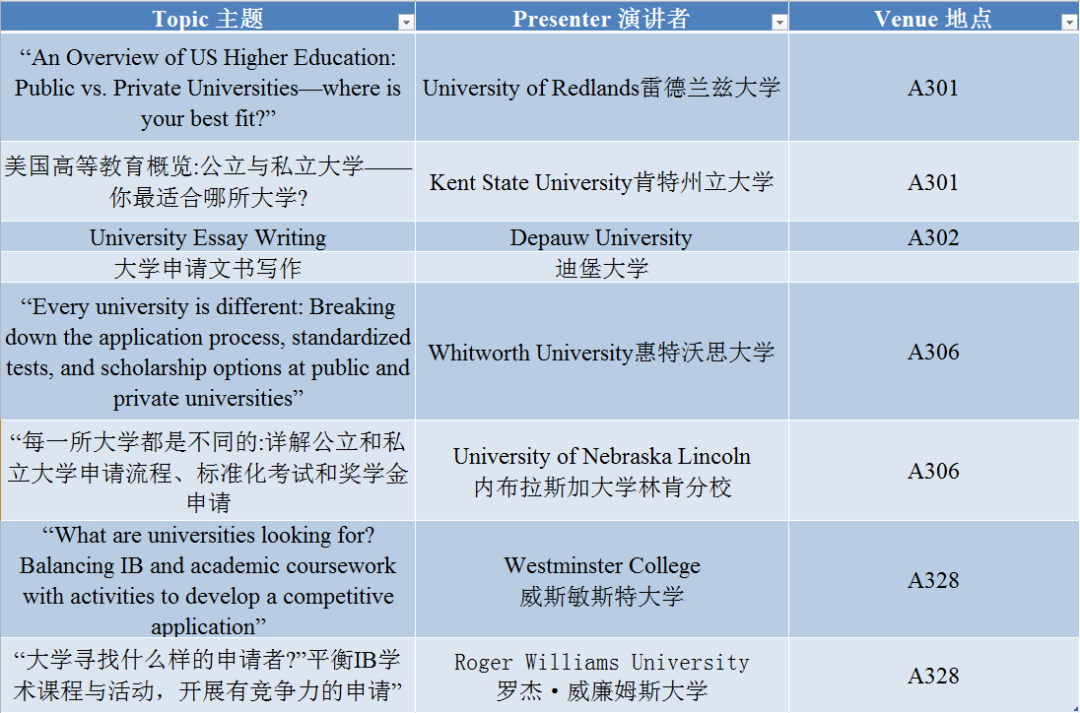 University Guidance Counseling Office at WUIS