In our WUIS Secondary School we offer IGCSE Art and Design in our Grades 9 and 10. Our students then have the option of studying IB DP Visual Arts in our Grades 11 and Grades 12. Many of our students then go on the study at globally recognized Art institutions. We are very lucky at WUIS with our amazing art facilities with a discrete studio for our IB Diploma Students and large well-equipped classrooms for our Visual Arts lessons.

We are very excited to show you some of the amazing work produced by our IGCSE Grade 10 students for their Cambridge International Assessment. We are very proud of their work.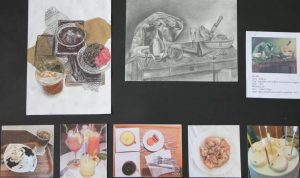 IGCSE艺术与设计学生
Dio Li 李尹艺
Candy Xu 许竞予
Grace Wang 王茗新
Gloria Chen 陈舒羊
Lois Yang 杨欣琪
Anny Zhu 朱笑瑜
Linda Gu 顾佳
Yuna Park 朴唯娜
Daisy Chen 陈楚楚
Daisy Hua 华一玮
Coco Wang 王可言
Nick Sun 孙广廷
Julie Zhou 周佳怡
Daniel Gong 龚夏源

IGCSE Art and Design is a rigorous course that has a 50% coursework component and a 50% internally assessed component. It requires students to understand primary sources, and to develop their own work, being creative and think critically on the way. For assessment they have to then select their best work whilst also meeting all the assessment objectives, quite a challenge!