Late this April until early this May, all the students from grade three to six participated in the second Ancient Poetry Competition. In their spare time, students recited ancient poems, read literature and developed their knowledge in that subject. After class auditions, written tests and interviews, the final class team participated in the university-level finals.
On May 17th, the WUIS Second Ancient Poetry Competition was held in the grand theater. A total of 11 class teams from the three grades participated in the competition, and 14 students participated in the individual competition.
The 4th grade girls unveiled the curtain of the 2nd ancient poetry contest with an elegant ancient dance. They moved so elegantly steps and danced like fairies.

From each grade's class representative team, each was outstanding. They worked together and did their jobs. The contestants were attentive, alert and responsive. On the stage the players competed with each other, unwilling to be outdone, the competition atmosphere was at its peak. The audience held their breath and silently cheered for their class. A "correct answer" of the judge teacher would always cause thunderous applause of the audience, the scene atmosphere climaxed repeatedly.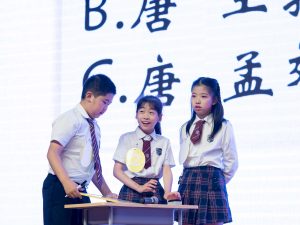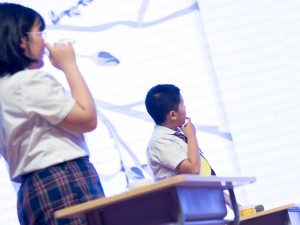 On the stage, the children were ready for more, they were rubbing their hands, wanting to try again. In interactive session, the host invited two groups of children, on the stage to play "ancient poetry solitaire" game. The ancient poem was easy to take for the students which caused the audience to burst into applause.

Classical poetry will be handed down forever because it is the immortal cultural foundation of the Chinese nation. Five boys from grade three with "Song of Tomorrow" once again woke up the students of the charm of the memory of poetry, reminding the students to cherish the learning time, study hard. When the poem met music, that melody excited every member of the audience which continued singing "tomorrow tomorrow, how much tomorrow, I am waiting for tomorrow, everything is wasted". Around the beam, the sound is endless.

怀抱桂冠记今朝
After fierce competition, each grade team, harvest good results. Grade three and grade five had the same score, so they entered the team in overtime contest. For a time, the atmosphere was tense. Finally, P3C, P4D and P5A class won the title of team, and the contestants were excited.
After the competition, the students became more interested in learning ancient poetry. We hope the children can read more Chinese poems and live a happy life.