In the 2018-2019 SPBCN National final competition, Wuxi United International School had great achievement while taking part for the first time. We've got the fourth place in the national team spelling competition; the champion of advanced group individual online competition; the second place of advanced group individual competition; the 9th place of national top 20 individual competition; the third place of intermediate group individual online competition, etc.

On the 22nd of April, the founder and president of SPBCN Mr Kai Zhang came to visit our school. He congratulated to our spellers who had achieved excellent grades in the 2018-2019 SPBCN national competition and awarded certificate and trophy to the students. Meanwhile, he also gave a detailed introduction about SPBCN to all the primary students, teachers and parents. Finally, he sent the invitation letter to all the students in WUIS to join in the international spelling competition in Princeton University.

During the awarding ceremony, the WUIS team spellers shared their feelings and achievements after taking part into the competition. Shane from P5C, as the team leader, shared his story with Spelling Bee. P4B Hugh's mother also talked about what she saw during the process from preparation to the competition and the final achievement. And she was deeply moved by how persistent and strong-minded as well as diligent the team showed all the way through.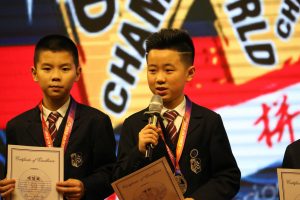 Each challenge is likely to change children's life. The progress of the spelling competition is like an anticipated movie including tension, trouble, happiness, tears and excitement. The students all armed themselves with strong faith and fight for their goals. Mr Zhang awarded prizes to all the spellers with great performance.
Mr Zhang awarded prizes to all the spellers with great performance.

Afterwards, Mr Zhang met with the chief principal of WUIS and the vice-principal of kindergarten and primary school. They both shared their thoughts about education. Mr zhang said " WUIS surprised him a lot not only by having so many excellent students but also by how well a school can combine the education of East and West."

It is a wonderful experience to meet with Spelling Bee which holds the dream of each student. Every challenge, competition and the courage used to overcome difficulties made a better us. Dear children, Princeton University is waving to you, good luck to all of you!
获奖名单
项博威 五年级
拼词大赛网络赛小高组冠军
全国总决赛小高组亚军
全国无组别Top20第九名
王翃熙 四年级
拼词大赛网络赛小中组季军

网络赛小初组前九名:
王令泽,李卓燃,刘姝含。
P2B王令泽

P2A李卓燃

P2D刘姝含
网络赛小中组前九名:
P4C王翃熙

P3A佘茂荣

P4B陈伊娃

P3B刘子懿

P4B蒋依衡

P3A夏维祯
网络赛小高组前九名:
P5C项博威

P5A明朗