A group of little actors who are from WuXi Xie He United International School performed a original drama by using their authentic English on 21st April. They performed the English stage drama << Wizard of Oz>> from the book at the Grand Theatre of WuXi and this performance is one of the Reading Month activities of Taihu Lake. There were no absent seats and auduences were impressed with how confident they were and how fluently they can speak English. That is perhaps we say "children from other families".
Students are doing well both on stage and off stage. Look, these are what they've presented with Chinese and English. The work itself tells what they've learned from different aspects, such as writing skills, mind mapping skills and creativity.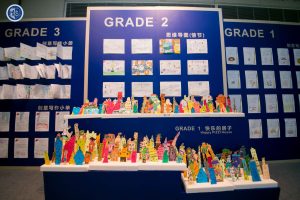 Let's have a close look at how did XieHe to educate their students in order to make them want to read and have hugh interests in reading. The teacher from XieHe said:" the stage drama Wizard of Oz is come from their daily readings." Since its establishment in 2013, the school placed great emphasis to encourage students to read. School has not only create curriculum that can help students to improve their reading skills, but also build reading literacy through surrounding environments and activities.
Students have a regular based reading learning, such as reading lesson where they will be divided into different reading groups according to their reading levels. They are having variety of ways to improve their English, they can borrow books from the library; the NuanNuan night time story; the picture books drifting; short drama performance in Chinese and English; reading festival; invite writers to come to school and the White Horse Theatre Storytelling. There is no wonder why students are so good at reading with all those helps they've got.

It is worth mentioning that XieHe has introduced <<reading test>>into school long ago to make sure the students are in the right reading levels. Meanwhile, every student from grade 3 and grade 5 will paticipate Australia's International English Proficiency Test. Based on data analysis, our students' reading ability are higher than average level. In 2018, our school won the prize of "Reading Project" of XiShan district and our school is the only one that privately-run.
XieHe is not only focus on reading, but also pay attention to cultivating and developing children's thinking ability. School has offered a unique course—Children;s Philosophy. The course is designed to focus on children's critical thinking, innovative thinking, caring thinking and cooperative thinking. The shcool became one of six of the first pioneer schools of children's philosophy in China. Moreover, an-eye-catching Math course—Mabel thinking course adds more fun to their learning and it is an interesting way to practise their thinking ability.

I thought it was just a dama of Wizard of Oz which to explore fairy's footprints. In fact, it was a journey to explore its students and school. Whatever XieHe made must be a boutique.