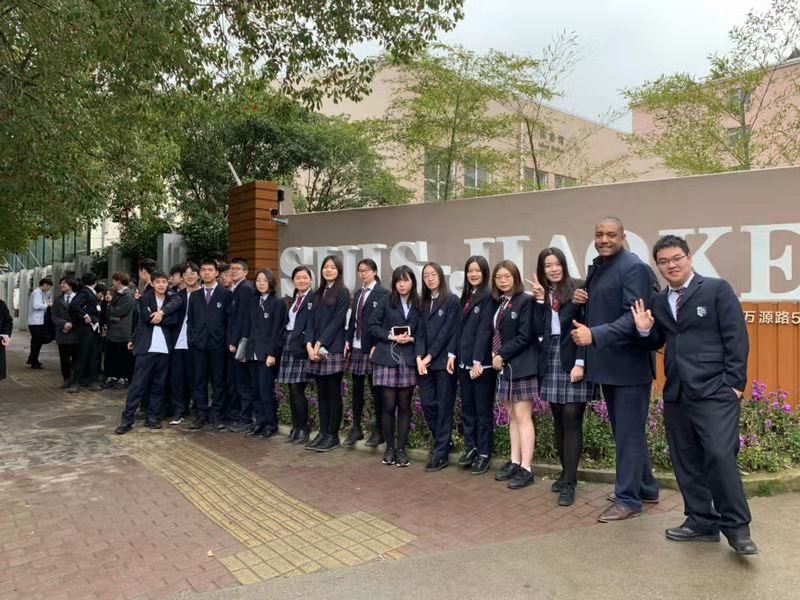 On Monday, March 18th, 2019, bathed in the light drizzle, all 11th graders, under the guidance of the Head of Grade and the University Guidance Counselors, took part in the university fair held in Shanghai United International School,Jiaoke Campus.
This university fair means a lot to us who are starting university applications. Almost every student has the opportunity to have a close contact with his or her dream university. When we stepped into the exhibition hall, the booths of more than 80 universities had been arranged in order according to the four regions of Europe, Asia, Australia and North America. The admissions officers at each booth were smiling, giving a sense of camaraderie, which encouraged us to learn more about the university they represent.

Prestigious universities are always very attractive. Most of my classmates visited the University of Cambridge booth and politely asked the admission officer for the badge as a souvenir. No exception, I took one too. I hope it can keep reminding me to work hard and bring me good luck to my university application.
The United Kingdom is my target destination. There are many universities I plan to apply for in this fair, such as University of Bath, University of Leeds and Queen Mary University of London. The admission officer at Queen Mary University of London gave me a detailed introduction of this historic college in both Chinese and English, which made me more interested in it.

As business is very popular for Chinese students, almost every university at the fair emphasized their business and economics programmes. After communication, I came to understand the minimum entry requirement for general business program in UK. The minimum IB score is 36 and the minimum IELTS score is 6.5 or 7.0. Therefore, I need to invest more efforts on IB study and test.
This university fair is a win-win opportunity. I would like to express my sincere thanks to our school for providing us with such a precious opportunity to better understand universities and ourselves. There is no shortcut to the dream school, only hard work.

Written by Grade 11 Claire Shen